As mothers, we tend to be watchful of our little ones' growth and developmental milestones. I feel so lucky that my little fairy has always made me proud of her advanced development. I'm not the kind of person who likes to brag but that changes when it comes to Iaine. She's such a healthy happy baby girl.
At her doctor's appointment yesterday, her pediatrician was glad to see that Iaine gained almost a kilo since the last time we came in. Little tigress now weighs a staggering 5.3 kilos! I guess that explains why my arms seem a lot more toned now... aside from all the other mommy duties I do everyday.
Anyway, her doc noticed that Iaine has good eye contact. She was right and I added that Iaine also responds well to conversation. Iaine's doc was happy to hear this. She also saw that Lil Tigress was very well behaved as she was administering some liquid medication orally and told me there are actually a few babies like that who don't freak out during medication time. She also assured me that Iaine's good eye contact confirms she doesn't have any kind of mental retardation such as autism. I felt my heart flutter with pride, happiness, but most of all, relief.

In relation to the eye-contact thing, the doctor also advised me to show Iaine red, black and white patterns as frequently as possible. I've always known this but I never really had the time to do it. So after the appointment, my husband and I drove to the mall with Iaine tagging along and bought materials for our assignment.
As soon as Iaine was asleep and settled last night, I started working on the project. I was so thrilled! Things new to my everyday routine excite me. Jai was too busy to join so he passed and made his paper crane today.
Ladies and gents, I give you... Project RBW!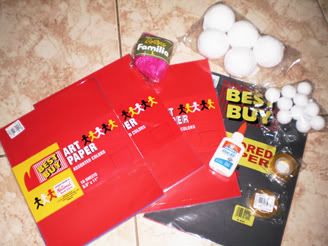 colored paper, glue, adhesive tape, ball of yarn, styrofoam balls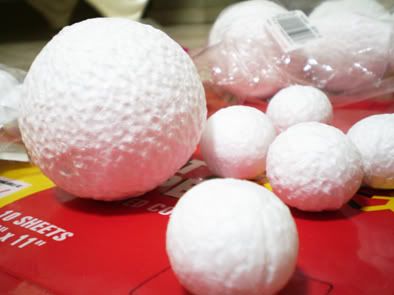 I think these things are just so cute.
...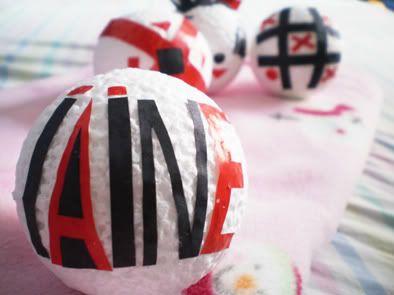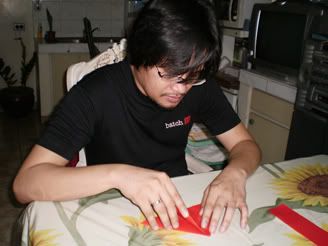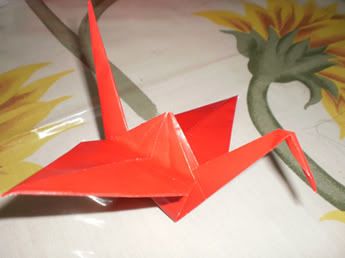 ...
AND VOILA!